Today's businesses are turning to popular trends in hopes of drawing in attention. Some are using adorably designed mason jars to create lots of social media hype.
MILK + T
Many boba shops only offer a basic variety of drinks. However, Milk + T, a self-serve boba truck, allows you to customize everything from toppings to the tea. The staff was happy to teach me the ropes but I was surprised the line grew rather quickly. If you are unsure what to order, their menu showcases popular drinks and each has a cute name like Best Friend. The truck's monochrome color scheme contrasts with the bright toppings displayed and they incorporated their glass bottles into their logo. All drinks are $5, no matter what combination. However, not all customers will be able to buy a bottle since it functions on a first come first serve basis.
The Milk + T truck can usually be found in Little Tokyo on weekends, Eagle Rock on Tuesdays and San Gabriel on Wednesdays. I suggest following them on Instagram (@milkandt) since they post updates on their locations and promotions.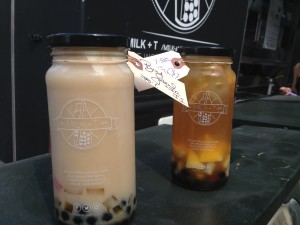 Bearology
In comparison to Milk + T, Bearology is an expensive experience since they charge $5 to $6 for miniature drinks. Despite the price, I honestly enjoyed trying their refreshing teas and slushies. I ordered the Mango Green Tea and my initial impression was conflicting. At first the drink came off as watered down but I did enjoy how natural the aftertaste was and how the small cuts of fruit inside tasted extremely fresh.
Located on the second floor of the Westfield Santa Anita Mall, next to Potato Corner and the NYX storefront, the counter can be hard to locate for newcomers. Just be aware that their stall is completely free of any signs or any logos on their outer walls. You can bring a jar back and instantly receive 10% off your purchase since they do allow you to reuse your container.