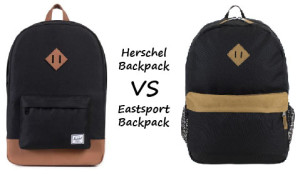 The Herschel Pop Quiz ($74.99) and the Herschel Heritage ($59.99) backpacks have been popular amongst students in recent years for their trendy, yet durable, styles. If your current backpack looks like a tornado of papers, these backpacks are sure to make organization easier by providing a wide range of pockets. They also come with features such as a sunglass compartment, an internal headphone port, a key clip and waterproof zippers so you can be prepared for anything at school.
Although Herschel backpacks are my all-time favorites, the Eastsport Contrast Trim Backpack ($14.95) is another great option if you'd like to opt for a simpler style. This backpack has equally as spacious compartments, and can fit everything from your heavy load of classwork to all the food you sneak during class. The backpack also bears the signature faux suede accent, which increases its resemblance to the Herschel backpack. It also provides you with something a Herschel backpack doesn't: two side pockets to stuff your water bottles in for easy hydration on the go.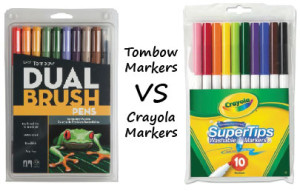 If you are new to hand lettering like me, but still want to amp up your handwritten card for your BFF's birthday, these calligraphy pens are notable options for beginners. The Tombow Dual Brush Pen Set ($26.99) is recognized as one of the most optimum pens for newbies for its big size and flexibility, making it easier to create strokes in various sizes. The dual sided pen offers versatility by coming with a fine tip on one side and a felt brush tip on the other. The blendable texture of the ink also makes it ideal for artists. However, one downside to the product is its tendency to bleed through thin paper.
If you are not quite set on spending $27, the Crayola Super Tips Markers ($2.49) are a great starter set for those on a budget. You might be a little skeptical about ordinary markers, but they will definitely do more than just get the job done. These markers come in a wide range of fun colors and the tip allows you to either make detailed strokes or color widely. Although the brush nibs are lower quality and are more easily damaged, they are still definitely worth considering for all hand lettering lovers.