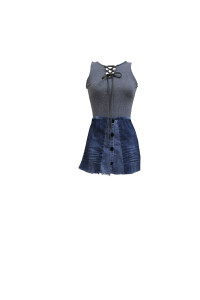 Tips and tricks for aspiring upcyclists
1. Learn to sew well.
2. Know what you want to create first, have a picture in your mind before you start.
3. Be patient and take your time, it might take a while, but the result is worth it.
4. Don't rush! You will mess up and it will take a long time to undo the stiches.
5. Be careful of size, if you cut too small, it will be hard to fix.
As other students spend their time looking for the perfect homecoming dress, Senior Minh Le solves the problem by creating her own. Since last summer, Le has been redesigning clothes and fabric to create new outfits for herself and others. She was inspired to start the process after she visited her grandmother in Vietnam.
Le's grandmother has late-stage liver cancer, and she is unable to sew because of her health. When Le visited family in Vietnam last summer, her grandmother told her that Le had a gift for sewing and encouraged her to take it up. She is glad that she can make her grandmother happy and learn a valuable skill at the same time. She also uses her creations to showcase her natural talent.
"I buy fabrics and make skirts, dresses for my sister, shorts and shirts,"Le said. "I like to follow trends, and I like my clothes to be cute and simple."
Le's first project was a gray lace up tank top, a style that she recreated using an old turtleneck. Her favorite item is a white off-the-shoulder blouse with a lace neckline made from her brother's dress shirt. She enjoys that she can create exactly what she wants to wear without having to search for it.
"Sometimes I want to buy new clothes, but I can't find the one that is my style," Le said. "when it's expensive or hard to find, I will just redesign or make my own."
Le takes advantage of her skills to design clothes, such as a homecoming dress that is a pearl white ball gown with a sheer lace neckline and white and pink chiffon at the hem.
Her talents haven't just caught the attention of her family, they've impressed her teachers and inspired her friends. One person who was interested in her work from the start was her Creative Clothing teacher, Ms. Kim Allen.
"Minh came in already knowing most of what my students know by the time they leave here," Ms. Allen said. "I'm hoping to just refine her skills and let her work on some more advanced projects that she hasn't tried yet."
Le's friend, Junior Chau Lam, says that Le is a very creative person, even in areas other than clothing design. Lam says that she sews, knit, and draws equally well. She is impressed with her friend's new ideas and talent, and hopes to learn from Le. Le's boyfriend, alumni Khai Dang Do, also noted the quality of her work.
"Minh really puts effort into what she's doing," said Do. "Every detail on the clothes, from the design to the stitches, is perfect and eye catching."
Although Le is clearly skilled at clothing design, she is inspired by her aunt in Vietnam to become a pharmacist to affect the lives of more people. She won't be continuing her projects as a career, but she knows that learning to repurpose items and customize clothing will benefit her in the future.