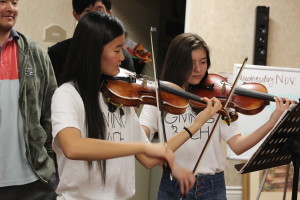 The purpose of playing music differs for everyone. For the students in the Giving Bach Club, music symbolizes bringing happiness to others and interacting with different people in the community.
"Our goal is to simply make people happy and enjoy music," President Senior Michael Ma said. "Seeing a three year old child's face light up or the elderly tear up because of our music can be very impactful."
Former Orchestra Director Mr. Richard Meyer started Giving Bach at Oak Avenue Intermediate School. After people graduated from Oak, they wanted to carry on the tradition, which led to the formation of the club at the high school.
The club diligently practices music every Thursday in Room 904 in order to prepare themselves for performances and even in the community. Members can bring their own instruments or use the ones offered during meetings.
"In my eyes, the audience's eyes gleam with joy," Junior Peter Ly said. "Their smile only comes with pure excitement."
Ly, who plays the cello, feels very accomplished each time the audience claps or smiles. He recalls how music has constantly helped heal him during his difficult times. Just like how music can express one's story, Ly believes that by playing the cello, he is telling his own story.
The club has been part of many meaningful events in the past, and have even collaborated with the Wounded Warrior Project to play music with retired veterans at the Arcadia Retirement Village.
Additionally, they will collaborate with Society of Friends Club on Dec. 15 to play music for students with special needs and hold a Christmas caroling excursion at Methodist Hospital. Come January, they will perform at Casa Robles.
"Every member puts in a lot of effort to bring happiness to our community," Ma said. "I hope that the school can see the club's effort and attempt to bring positivity."