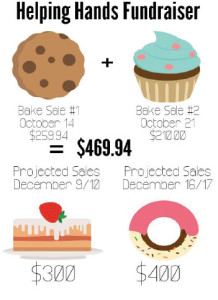 Helping Hands is a new campus club that assists local charities in need of money. By going through a list of organizations chosen by President Junior Codi Weisz, the members of Helping Hands selected three charities they believed had honest intentions and needed the most help.
"I decided to create this club and have it centralized around local charities because a lot of people go help charities that are major corporations," Weisz said. "While that's amazing, it's more distant and detached. But by donating to a local charity, you know you are helping those in your town."
These charities include the Pregnancy Help Center of San Gabriel Valley, SGV Humane Society and WINGS, which is an organization that assists victims of domestic violence. With Helping Hands' contributions, they hope to alleviate the financial pressures of these charities, allowing them to have an easier time to remain in operation.
"I personally love that each charity helps people overcome their struggles by making sure that all their needs are met," Junior Haley Quan said. "To be a part of that is truly a humbling experience."
Helping Hands' divides the school year up into three, three month periods to raise money. Within those periods they will host fundraisers for these charities by having events such as bake sales, during which they sell a variety of sweet goods, such as cupakes, cookies, brownies and rice krispies.
For example, the club will spend January to March raising money for the SGV Humane Society, and then from April to June raising money for WINGS. This way, the club can focus on one organization at a time and have a large enough window of time to provide sufficient funds to each.
Helping Hands' efforts have been very successful. At the beginning of the year, they set their standards low with the goal of four hundred dollars in two bake sales. With their first two bake sales, they raised a combined amount of $469.94, almost seventy dollars over their projected sales. As a result of their overwhelming success, they have updated their goal.
If this success continues, the club will be able to donate even more towards the Pregnancy Help Center. Their initial goal was $700 but due to the generous amount of support, they can look to donate even larger amounts of money that will provide an extra boost to their cause.
The club's next bake sale will be on Dec. 16 and 17 in front of the Ralphs on the corner of Las Tunas and Cloverly Avenue. All proceeds made from September to December will be donated to the Pregnancy Help Center. Ultimately through various fundraisers, the club lends a Helping Hand to making our community a better place.
"It's really good of teenagers to step up and try and make a difference," Junior Penelopi Trieu said. "For us it's more than just community service hours; it's helping our community one bake sale at a time."